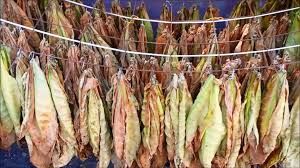 We offer an excellent variety of Air Cured Tobacco to the clients all over the world. We offer various types of Air Cured Tobacco like Black Chopadia Tobacco, Red Chopadia Tobacco, Monsoon Burley Tobacco and so on. The Air Cured Tobacco can be obtained by clients at market leading rates.


We offer superior quality fire cured tobacco to the esteemed clients worldwide. The fire cured tobacco is found in a colors ranging from brown to dark brown. The fire cured tobacco is manufactured with leaves of sizes medium to large. We offer the fire cured tobacco at competitive prices to clients.
We bring forth high quality flue cured virginia tobacco to the clients across the globe. This flue cured virginia tobacco is preferred for low nicotine content, high filling capacity and suitability to blend well with any tobacco. We provide the flue cured virginia tobacco at affordable rates to clients.
We are engaged in providing clients with excellent variety of Sun Cured Natu Tobacco. This range of Sun Cured Natu Tobacco is primarily used for cigarette blending and for hookah tobacco paste making. This range of Sun Cured Natu Tobacco undergoes stringent quality control measures to make the range free from all drawbacks.